Here is everything you need to know about iOS 17 rumors, upcoming features and list of compatible devices.
Another day, another topic to share with iPhone community. Since 2023 Apple Worldwide Developers Conference date has announced and it will fall between Mon, Jun 5, 2023 – Fri, Jun 9, 2023. Like previously, there will be no in-person attendance. So only few months are left to discover iOS 17 new features and supported devices. But we know you are curious every day which features are coming to iOS 17 so we have mentioned them all as resources have given.
When iOS 17 is Coming Out
Right after the WWDC Apple will seed iOS 17 beta for iOS Developers around the globe. Later on, in July iOS 17 public beta will also be available so users around the globe can try if they want to. Final version of iOS 17 will be out globally along with iPhone 15 & iPhone 15 Pro flagships.
iOS 17 Supported Devices
Before jumping into iOS 17 coming features it is important to share iOS 17 supported devices with everyone as well. According to sources; Every iPhone running iOS 16 will get the new update in 2023 as well. So it is clear iPhone 8/Plus & iPhone X are still strong enough to handle the partial 3GB RAM support.  This might not be wrong because this came out from a person who belongs to Apple Development team.
Also Read: How to Check Second Hand iPhone Before Buying
Which iOS 17 New Features are Coming?
According to sources, Apple has named iOS 17 development project as "Dawn" and also they have named it "nice to have" which means Apple is working on some features to add which are on your wishlist or you always wanted.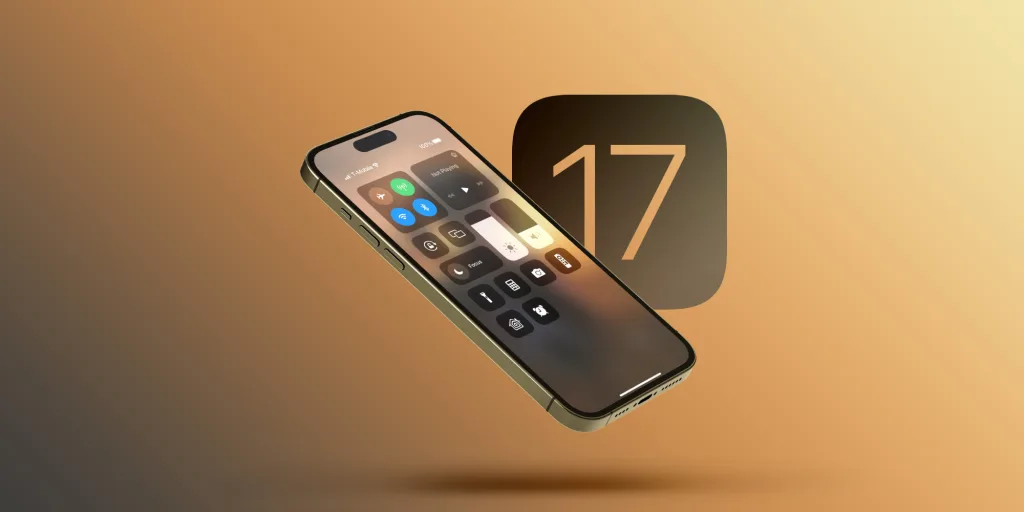 Also, Apple is planing to announced Reality Pro Headset this year so it is rumored that Apple is just focusing on bug fixes, performance and battery life this year on iOS 17.
9 New Features Coming to iOS 17
When it comes to software there are leaks available same like in the case of hardware. Here is a list of iOS 17 features we know so far. These are not officially announced by Apple yet but just rumors. But we believe these listed features are coming to iOS 17 in 2023.
Revamp Control Center
Revamp Wallet App
Journal App
Mood Tracking in Health App
Unwanted Tracking Alert Expansion
iMessage Contact Key Verification
Active Widgets
Major CarPlay Update
Side-loading Applications
1- Revamp Control Center
With the latest iOS 17 feature rumors we have came to know Apple is focusing on making the Control Center more beautiful and elegant for devices with Dynamic Island. Any device with iOS 17 support will be able to get this new Control Center UI. Here is a picture which is wandering here and there but a confirm change.
2- Revamp Wallet App
Since the release of Wallet App we haven't seen any major changes to Wallet App. But this summer Apple is going to redesign the wallet app for your iPhone. Person with username Analyst941 leaked a new Wallet app screenshot over the internet which show some changes of tab within wallet app.
3- Journal App
This fall, Apple is planning to release a Journal App for your iPhone & iPad. Using journal app you can simply sum up your daily life tasks, activities & plans within one App. Later on, Apple will may access this data to understand user behavior by integrating this application with Health app; already available on your phone.
4- Mood Tracking
Every year Apple is trying to improve the Health App for it's users. This year two major changes are coming when it comes to health app. If you don't have an health application on your iPad then wait for iOS 17 release. Secondly, Apple is considering to add  new Mood Tracking & Emotions tracking AI based features. It will be rolling out this fall with iOS 17. The results generated what you have typed on your iPhone or iPad as per need will tell the algorithm what kind of behavior user need to improve & focused medically.
5- Unwanted Tracking Expansion
Few years back Apple released AirTags which are now the most selling product over the globe. These are very useful for tracking your cars and luggages. Right now, you may have received a notification on your iPhone saying "AirTag found moving with you" and you must be thinking about that. You can simply ignore this notification if you haven't stolen anything from anyone. This feature is very useful for the owner because he can keep an eye on what belongs to him. With the help of Google, this year both companies have made a contract to expand this tracking feature. By the end of 2023, user can track even using Android devices.
6- iMessage Contact Key Verification
Apple is always focusing on its users security improvements. Apple added LockDown Mode for iPhone as a security to prevent it's data from any hacker. Now Apple is adding advance security for iCloud & iMessages. If any unknown device is signed in with your iCloud you will be notified. This feature is helpful for those who thinks their data is sensitive. Normal users should not be worry about because it is not easy to hack an iCloud or Apple server.
7- More Active Widgets
With iOS 16, Apple released active widgets features & now with iOS 17 Apple is focusing to improve this feature by make it more easy & useful for end user. However this time Apple is focusing to add live widgets on HomeScreen & Today View.
8- CarPlay Update
In Apple WWDC 2022, it was clear that Apple is working on new CarPlay major update. With iOS 17 built in feature, users will be available to control the volume and radio through CarPlay. Seems like it will be more adopted.
9- SideLoading Applications
From all of the above mentioned iOS 17 features seems like Side Loading applications from third-party store will be a huge one implementation because European legislation requires Apple to allow for sideloading starting in 2024.
If you are planning to try out the developer beta like previously by installing or configuring profile on your iPhone then you cant do this anymore. Apple has already implemented this beta restriction with iOS 16.4 on your device. Only those who have Apple Developer program signed up will be able to test the developer beta.
That's all folks. Let us know in comments which iOS 17 feature is still in your wishlist. Also, what you are expecting this year from Apple on the base of above mentioned rumors? Do not worry. You can bookmark this post & visit later to see what we are adding more here.
iOS 17 release date, features, & supported devices are already trending topics in our discussion group. You can join the official group by iPhone24x7 with your facebook account. Signing out Peace.